What is a slab cake?
A Slab Cake usually refers to a large rectangular shaped single layer flat cake perfect for serving large groups of people.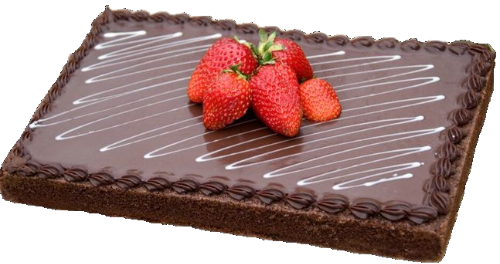 How big are slab cakes?
Full Slab cakes are usually about 30cm x 40cm
Half slabs about 20cm x 30cm
How many serves per slab cake?
You can easily cut a slab cake into anywhere from 30 - 70 pieces depending on how big you want each serving size.
Here are some suggested cutting options

How to cut slab cakes?
We recommend cutting cakes to desired portion size whilst the cake is still completely frozen.
Use a hot knife rinsing & wiping excess off the knife after each slice with a paper towel before re-dipping into hot water again for the next slice.
How to thaw Slab Cakes
Frozen Slab Cakes are best thawed overnight in the refrigerator.
What flavours can I choose from?
Something to suit everyone including:
Chocolate
Chocolate Mud
Banana
Carrot
Orange Poppyseed
Salted Caramel
Half Slabs
We also have a terrific range of Sara Lee Slab Danish for those that are looking for something a bit different.
What occasions are Slab Cakes Suitable For?
Birthday Celebrations

Slab Cakes are most suited to satisfying everyone at large birthday parties or celebrations.

In Case of Emergency

When visitors drop in unexpectedly you can simply cut a portion off to be sliced into individual serves and then keep the remainder frozen for the next occasion.

Event Caterering

Caterers use slab cakes all the time adding garnish to make each slice a delicious work of art.

Fund Raising

Many sporting groups, schools, church groups and other not for profit organisations buy slab cakes for fund raising events selling each slice for a profit.

Weddings and Engagements

They have even been used as a base for creating fantastic wedding cakes!
Where to buy slab cakes in Sydney?
You can order your slab cakes online from Padstow Food Service Distributors and arrange for delivery in the Sydney metro area.
Padstow Food Service also has a Factory Outlet Shop open to the public located at 2D Arab Road Padstow just near Padstow McDonald's and around the corner from the new Bunnings Hardware on Fairford Road.
What do Slab Cakes cost?
Our slab cakes are fantastic value for money and range in price from around $30.00 to $40.00.
The half Slab Happy Birthday cakes are only $20.50 and serve 15 to 30 people
How to order Slab Cakes in Sydney
Ordering online is easy.
Select your preferred cakes and add to cart
Tell us what date you want them
Check Out – that's it!
If you have any further questions, please email our customer service team or Tel: (02) 9792 2170
Recent Posts
If you have ever ventured to your local Bunnings Hardware on any given weekend then you have no doub …

This year your office Christmas party is going to be fabulous and I'm going to explain why.If you ar …

I can remember in the late 70's early 80's after spending a morning surfing at the Wall near North C …