For those in the Baking and Cake Decorating world, Queen is a name synonymous with excellence and innovation.
With a rich history spanning over six decades, Queen has earned a superb reputation for providing top-tier Baking and Cake Decorating supplies to chefs, bakers, and food enthusiasts world wide.
Their dedication to quality and innovation can be traced back to their humble beginnings back in late 1880's when a renowned pharmacist, Mr Edward Taylor of Queen Street in Brisbane, provided a range of extracts, tonics, fragrances and lotions incorporating vanilla that he made himself.
Seeing the need to provide his customers with even more, Mr Taylor partnered with Mr Colledge to form the Queen brand in 1897.
From day one they began to win awards for their food colourings and Vanilla.
The Queen Vanilla range expanded in the early 1920s with their products being sold in hand made glass bottles.
By 1960 the range had expanded even further to include more colours, extracts and essences.

By 1972 this foundation saw Queen become the preferred brand for baking in Australia and its signature Vanilla extract recipe absolutely loved by generations of bakers.
Queen built its own custom manufacturing facility in Alderley, near Brisbane, to meet the growing needs of Australian bakers.
Staying in the neighbourhood, Queen then moved around the corner to its Wakefield street address which has become the home of Queen Vanilla for many decades now.
Today, Queen Professional is a global leader in the industry, known for its commitment to excellence in the world of Baking and Cake Decorating.
A Baking and Cake Decorating Revolution Unveiled
In a recent development, Padstow Food Service, a respected name in the Sydney foodservice industry for over 30 years, collaborated with Queen and has now been established as Queen's Sydney based Factory Outlet.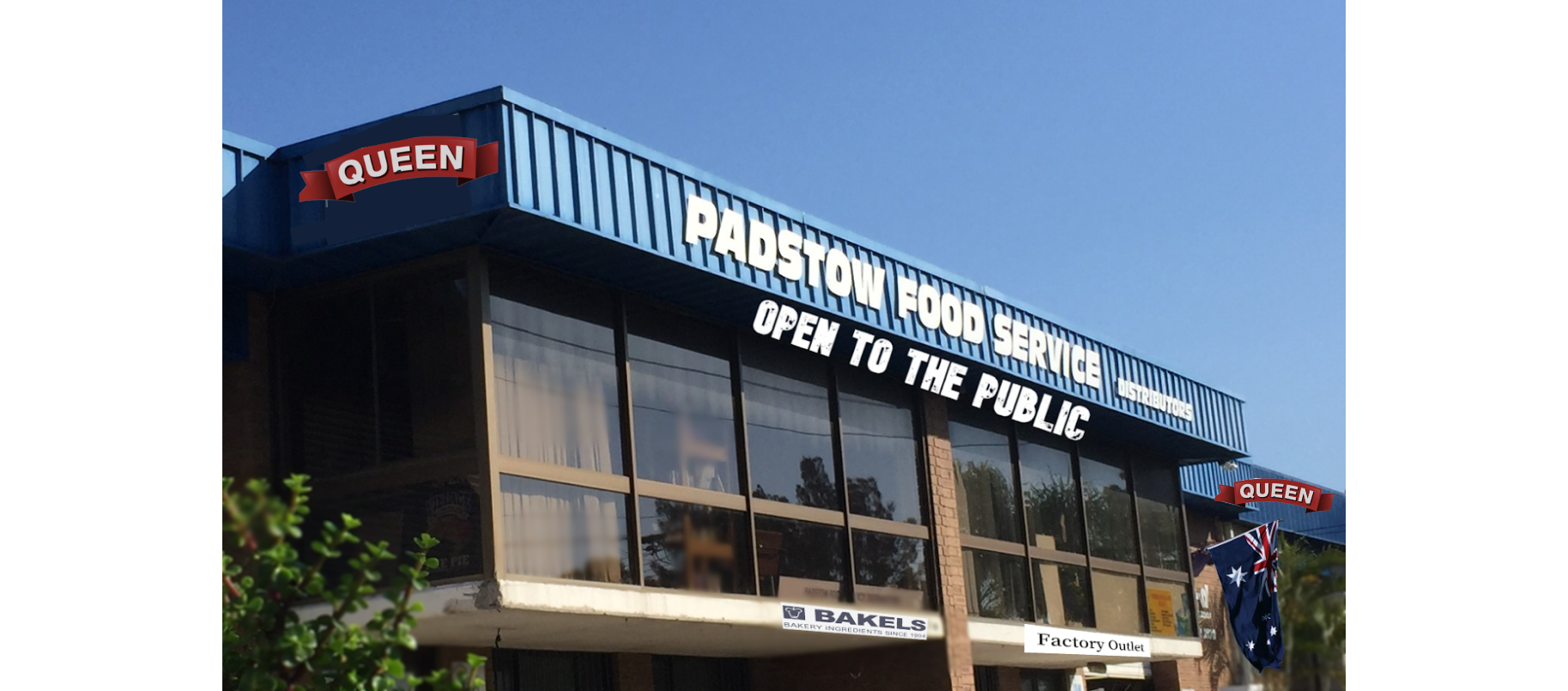 This means that Queen's extensive range of products will now be easily accessible to chefs, bakers, and food enthusiasts in Sydney and beyond.
One of the most exciting aspects of the Queen Professional Factory Outlet at Padstow Food Service is the diverse range of Baking and Cake Decorating supplies it offers, making it an ideal destination for baking and cake decorating enthusiasts.
The Factory Outlet boasts an extensive inventory of products from many other famous brands including:
and many more!
The Queen Professional Factory Outlet at Padstow Food Service is more than just a place to shop for Baking and Cake Decorating supplies; ……………….
It's a Baking and Cake Decorating destination for anyone passionate about baking and cake decorating.
The outlet is open to the public and also trade customers.
Conveniently located at 2d Arab Road in Padstow, just near McDonalds, and only 600 metres from the Fairford Road Exit of the M5 Motorway…..between Bankstown and Menai.
The Outlet is Open to the public 5 and a half days per week including Saturdays from 7am till 1pm.
Delivery is available Australia wide.
Padstow Food's Factory Outlet is your destination for Queen Professional and a wide variety of other baking and cake decorating supplies.
Check out the online shop today at padstowfoodservice.com.au or Phone 0297922170

Recent Posts
For those in the Baking and Cake Decorating world, Queen is a name synonymous with excel …

We are excited to announce Padstow Food Service is now an official Factory Outlet Shop for Looma's …

You don't have to live near or travel to a specialty shop to buy safe, pure, ethically-sourced and …